You can import Excel, MS Project, CSV (comma delimited) and JSON files or you can copy and paste tables from for instance Word documents or webpages into Tom's Planner. You can export your schedule to MS Project, CSV, JSON, Excel, PDF or an image file. To import or export files just click the 'Import & Export' button on the toolbar.
Import MS Project
If you choose to import an MS Project file you will be asked to upload a Microsoft Project file (the file with the 'mpp' extension) and it will automatically be opened in Tom's Planner as a new schedule.
Import Excel (or any other spreadsheet application)
Importing Excel data is a simple three-step process:
Copy the contents of your excel document into Tom's Planner.

copy the contents of cells in Excel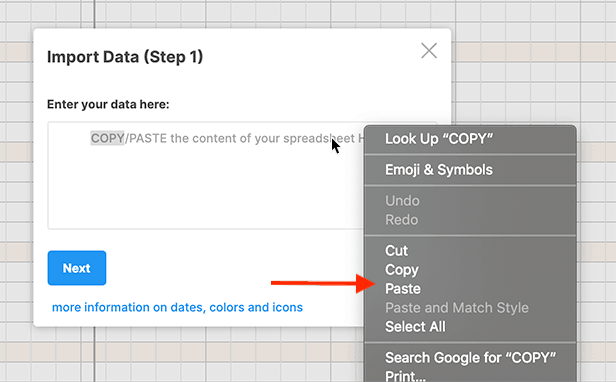 paste the contents of excel cells into Tom's Planner
Step 2: After you have pasted the data into Tom's Planner you will be asked if you want to create a new schedule with the imported data or if you would like to add it as a new group to your existing schedule.
Step 3: In the third step you can match the different columns in your spreadsheet with the columns in your Tom's Planner schedule. Tom's Planner will make a best but do review these settings.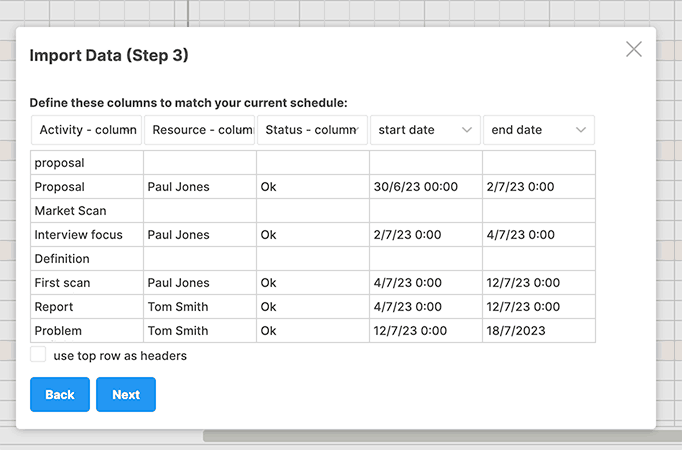 make sure that every column will be imported correctly
Import tables from Word documents or Internet Pages
This works in exactly the same way as importing data from Excel (see previous page). The only difference is that you copy the data from for instance a Word document and not from an Excel spreadsheet: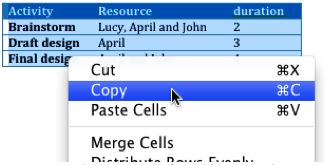 copy the contents of a table in Word
Results might vary from table to table and depends on the way the tables are formatted by the author. If you run into any problems be sure to contact us at support@tomsplanner.com.
Import
CSV

files

Importing CSV files is the same as importing Excel files. However you will be able to upload your CSV file directly instead of having to copy/paste the file contents into the tool.
Import/Export
JSON
JSON is the format in which the schedules are stored in the database. These files contain all the possible information in your schedule. You can use these files best if you want to make a back up or when you are a developer and want to integrate Tom's Planner with other applications. More information on the JSON structure can be found here: https://tomsplanner.com/documentation/export-import-json.pdf
Export to MS Project
Your schedule will be exported to a xml file which can be opened in MS Project.
Export to Excel and
CSV
More information on the results of the export to Excel and CSV can be found here: https://tomsplanner.com/documentation/export-to-excel-csv.pdf
Export to
PDF

and Image file

More details on the export to PDF and Image files can be found on page 25 in the chapter on printing.